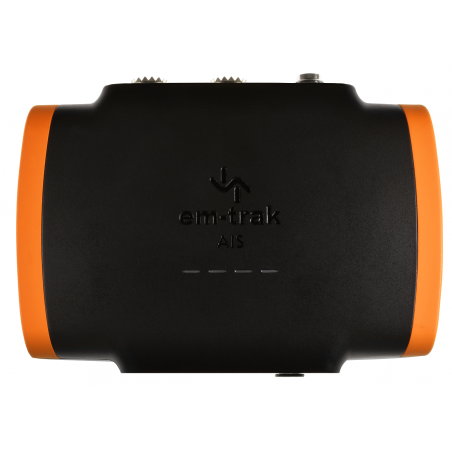 AIS Class B924 Transponder with standard power (2W CSTDMA) is small, light-weight, yet delivers the very best AIS receive and transmit performance 
AIS Class B924 Transponder combines WiFi & Bluetooth for seamless wireless connectivity, as well as an integrated VHF antenna splitter which enables the transceiver to share your existing VHF antenna without any loss of performance.
For price inquires and details concerning all of our products please call us on (+30) 210 45 14 631 and (+30) 210 42 86 121. Our Call center is ready to take you call.
ΧΑΡΑΚΤΗΡΙΣΤΙΚΑ ΠΡΟΪΟΝΤΟΣ
Πιστοποιημένο AIS Class B - 2W CSTDMA

Plug & Play Συνδεσιμότητα - WiFi & Bluetooth

Ενσωματωμένος διαχωριστής κεραίας VHF με μηδενικές απώλειες υψηλής απόδοσης

Παγκόσμια πιστοποίηση - USCG / FCC / Καναδάς / Ευρώπη

SRT-AIS ™ για εξαιρετική απόδοση

FLEXI-FIX ™ σύστημα στήριξης για εύκολη, βολική και ασφαλή εγκατάσταση

Εσωτερικός δέκτης GPS υψηλής απόδοσης και κεραία (εξωτερική κεραία προαιρετική)

Νερό, ψεκασμό πίεσης και υγρή απόδειξη - IPx6 & IPx7

Σκονισμένο - προστατευμένο από κραδασμούς, κραδασμούς και ακραίες θερμοκρασίες

Μικρό και ελαφρύ

Εξαιρετικά χαμηλή κατανάλωση ενέργειας - καλύτερη στην κατηγορία

Εγγυημένη συνδεσιμότητα και διαλειτουργικότητα με οποιαδήποτε εφαρμογή, γραφικό plotter, έξυπνο τηλέφωνο, tablet ή υπολογιστή

NMEA0183 & NMEA2000

Αυτοματοποιημένη παρακολούθηση της υγείας και της απόδοσης

Αθόρυβη λειτουργία (μεταφέρονται κατά την απενεργοποίηση ) λειτουργίας

Ενισχυμένη ανίχνευση RF για προστασία από ηλεκτρομαγνητικές παρεμβολές

Χτισμένο -σε ισχύ κύμα προστασίας
ΣΤΟ ΚΟΥΤΙ
1 x πομποδέκτη AIS

1 x Καλώδιο τροφοδοσίας και δεδομένων (2 μέτρα)

1 x Καλώδιο ραδιοφώνου VHF (1m)

1 x Βάση στήριξης FLEXI-FIT - Πλήρης με βίδες και προαιρετική ταινία στερέωσης
ΤΕΧΝΙΚΕΣ ΠΡΟΔΙΑΓΡΑΦΕΣ
ΦΥΣΙΚΕΣ ΚΑΙ ΠΕΡΙΒΑΛΛΟΝΤΙΚΕΣ ΠΡΟΔΙΑΓΡΑΦΕΣ
Μέγεθος (Π x Υ x Β) - 150 x 115 x 45

Βάρος - 425g

Λειτουργικά Θερμοκρασία - -25 ° C έως + 55 ° C

Θερμοκρασία αποθήκευσης - -25 ° C έως + 70 ° C

Βαθμός προστασίας - IPX6 και IPx7
ΗΛΕΚΤΡΙΚΕΣ ΠΡΟΔΙΑΓΡΑΦΕΣ
Τάση τροφοδοσίας - 12V ή 24V DC

Προμήθεια Τάση εύρος - 9.6V - 31.2VDC

Μέσο ρεύμα ( σε 12V) - 280mA

Μέσο ρεύμα (σε 12V) (ασύρματο απενεργοποιημένο) - 245mA

Μέγιστο ρεύμα - 2Α

Μέση κατανάλωση ενέργειας (σε 12V) - 3,4W

Μέση κατανάλωση ενέργειας (σε 12V) (ασύρματη απενεργοποίηση) - 2.9W

Γαλβανική απομόνωση - Μόνο εισόδους NMEA 0183, θύρα κεραίας NMEA 2000, VHF
ΣΥΝΔΕΤΗΡΕΣ
Κεραία VHF - SO-239

VHF ραδιόφωνο - SO-239

GNSS - TNC

Ισχύς / NMEA 0183 / αθόρυβη λειτουργία - 12 κυκλική πολλαπλή πόλωση

NMEA 2000-5 τρόπο Micro -C σύνδεσμο

USB - USB Micro -B
ΔΙΑΣΥΝΔΕΣΕΙΣ ΔΕΔΟΜΕΝΩΝ
NMEA 0183 - 2 θυρίδες διπλής κατεύθυνσης

NMEA 2000 - NMEA2000 Ed 3.101, LEN = 1

Εικονική θύρα COM - USB για δεδομένα NMEA0183

Wi-Fi - υποστήριξη IEEE 802.11 (a / b / g), πελάτης και σημείο σημείου πρόσβασης (2 συνδέσεις σε λειτουργία σημείου πρόσβασης)

Bluetooth - BT Classic 4.0, 7 παράλληλες συνδέσεις
ΣΥΜΜΟΡΦΩΣΗ ΠΡΟΤΥΠΩΝ
Πρότυπα AIS - IEC 62287-1 Ed. 3. ITU-R M.1371.5

Πρότυπα ασφάλειας προϊόντων - EN60950-1 2006 + A11: 2009 + A1: 2010 + A12: 2011 + A2: 2013 EN62311: 2008

Περιβαλλοντικά πρότυπα - IEC 60945 Ed . 4

Πρότυπα διασύνδεσης σειριακών δεδομένων - IEC 61162-1 Ed 5.0. IEC 61162-2 Ed 1.0

NMEA 2000 - NMEA 2000 Ed 3.101

Πρότυπα απόδοσης GNSS - IEC 61108-1 Ed 2.0. IEC 61108-02 Ed 1.0
GNSS
Συστήματα που υποστηρίζονται - GPS, GLONASS, BeiDou , Galileo (δύο από οποιονδήποτε συνδυασμό, τρία συμπεριλαμβανομένου του GPS, του Galileo)

Κανάλια - 72

Εσωτερική / εξωτερική κεραία - Εσωτερική ή προαιρετική εξωτερική κεραία

Ώρα για πρώτη φορά από το κρύο ξεκίνημα - 26s
VHF TRANSCEIVER
Σχήμα πρόσβασης VDL - CSTDMA

Συχνότητα λειτουργίας - 156.025MHz - 162.025MHz

Εύρος ζώνης καναλιού - 25kHz

Δέκτες / πομποί - 2 x δέκτες, 1 x πομπός

Ευαισθησία δέκτη AIS (20% PER) - -111dBm

Ισχύς πομπού AIS - 2W (+ 33dBm)
ΔΙΑΣΥΝΔΕΣΗ ΧΡΗΣΤΗ
Δείκτες - Ισχύς, χρόνος εκπομπής, σφάλμα, σιωπηλή λειτουργία
Automatic Intensification System